Features
Capacity: 500g or 2000g | Dual Range
Resolution: 0.01g
Repeatability: 0.08g +/- | 0.18g +/-
Throughput: up to 320 ppm
Related Video
7bcdj2raWnA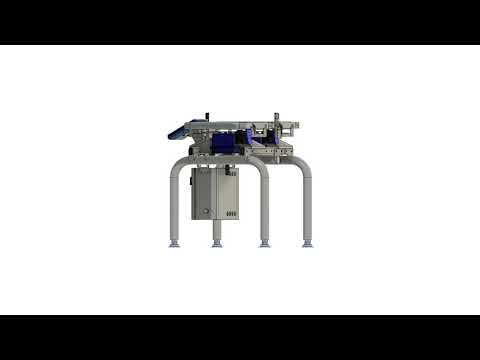 AD-4961 Series Checkweighers
1LsmgCzIieo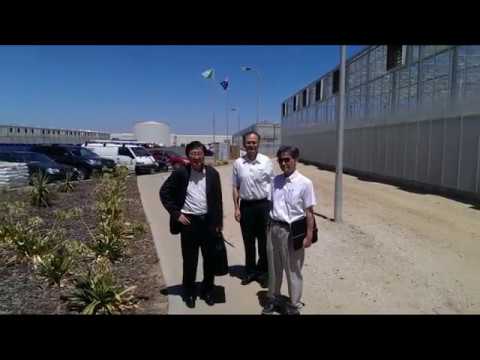 A&D Checkweighing Simplified - tomato packing shed weighing & data capture!
d-I4Hcy9krk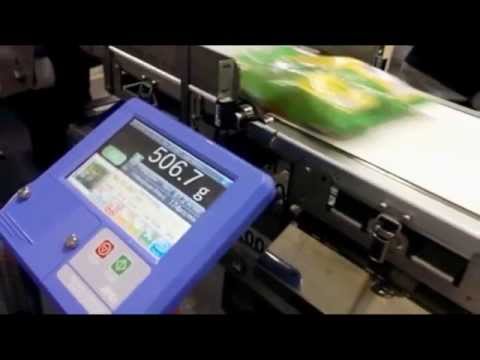 Checkweighing Simplified - a SWEET solution!
xPdQ76p6wvw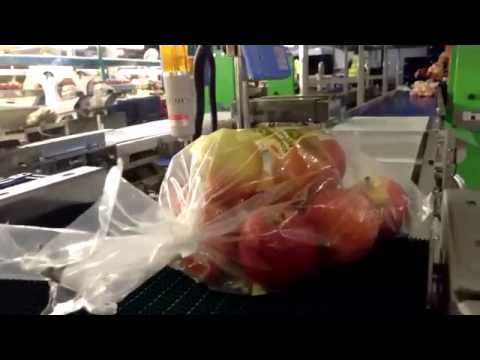 A&D Checkweighing Simplified - Bags of Apples!
Additional Information
Best-in-class Precision
With a newly developed digital load cell and an ultra-high speed processing module, high level precision of 0.08g (3σ)*1 has been realized.
With this high accuracy checkweigher scale, you can minimize the giveaway of materials above the specified weight and contribute to reductions in production costs.
*1 For AD-4961-2KD-2035. Depends on the shape and the condition of the product and installation environment.
7 inch color touch panel
The display utilizes a high visibility touch panel color LCD with user friendly Graphic User Interface (audio guidance support function included).
Image import from USB
Product images can be quickly uploaded to the checkweigher from a USB flash drive, making product identification and upload fast and simple.
IP65
Protected from dust and water to IP65 standards. Hygienic design with the entire system washable.
Stores up to 1000 products
Products can be divided into 10 different groups, with up to 100 products able to be recorded within each group.
Lightweight and compact design
With its modular structure, the AD-4961 allows for rapid and simple installation or relocation.
Unique modular design
AD-4961 consists of four units: an infeed conveyor unit, a weighing conveyor unit, a control unit and a base unit, allowing fast and simple assembly.
In the case of system shutdown, you do not need to wait for a service engineer to respond to the issue.
Just simply replace the unresponsive module by yourself, so that you can shorten system downtime and maximize production efficiency.


Optimization of weighing configuration
By inputting throughput (products per minute) or belt speed (m/min), optimal weighing conditions can be automatically set.
You can weigh products precisely without inputting various settings.
HISTORY FUNCTION
Operational history
The history of configuration changes can be recorded and displayed. Suitable for use in HACCP programs along with the weighing history function.
Users can be registered and their scope of permitted operations controlled according to 4 management levels.
[Operation]
[Supervisor]
[Quality Manager]
[Administrator]
By assigning each user to the appropriate level of access, inadvertent operations can be avoided.*2
*2 "Operator" is set as the factory default setting.


Weighing history
Weighing results are automatically recorded in a USB flash drive during weighing.
Output data: Date, time, group and product number, weight data and judgments.
USB memory
Approx. 6MB memory size is required for 8 hours operation at the maximum throughput (320pcs/min.)
Approx. 7GB memory size is required for 24hours 365days operation.


Modbus communication
Equipped with Modbus RTU/Modbus TCP as standard.
With Modbus communication, seamless connection can be easily achieved.
Operations such as stopping and starting weighing, collecting data and changing product can all be set from an external device.


Various inputs / outputs
Rejector output , alarm output, metal detector input, RS-232C, TCP/IP and USB interface are equipped as standards.
Storing data in a USB flash drive or outputting to a printer are also possible.
Graph printing to a printer
Histogram, X/R control charts and summary reports can be outputted to a PostScript printer via Ethernet.
Data summary
Various summary data such as histograms (frequency including defects), X charts, R charts, total summaries, etc., are available.
You can visually confirm fluctuation of weighing results and adjust your manufacturing machine accordingly.


Histogram, control charts and summary reports
After weighing, press the PDF key on the summary display. A PDF report is outputted to a USB flash drive. The same reports can be printed out by pressing the PRINT key when a PostScript printer is connected to the checkweigher.


USB memory function
Weighing history and operation history are stored in a USB flash drive.
You can also output histogram, X/R control charts or summary data to a USB flash drive in PDF format.
A USB flash drive needs to be inserted before weighing.
*Please prepare a USB flash drive.
Specifications

Accessories


Rejectors


Unit supply for AD-4961-2KD-2035
We supply checkweigher modules individually, allowing you to build a weighing system which fits your production lines.

| | |
| --- | --- |
| Model | AD-4961-2KD-2035 |
| Capacity | 500 g /2,000 g |
| Resolution | 0.01g /0.1g |
| Repeatability | 0.08g / 0.18g +/- |
| Max. Throughput | 320 pcs/min |
| Conveyor Belt width | 200mm | 7.8 in |
| Conveyor belt length | 350mm | 13.7 in |
| Conveyor Belt Material | Urethane |
| Belt Speed | 15 ~ 120 m/min | 49 ~ 393 ft/min |
| Max. Product Dimensions | Length: 30 ~ 300 mm | 1 ~ 11.8 in Width: 200mm | 7.8 in |
| Weighing Sensor | Strain gauge load cell |
| Display | 7″ color touch screen |
| Number of product registration | 1,000 items (10 groups x 100 items) |
| Comunication Protocol | Modbus TCP / RTU | RS-232 / 485 | TCP/IP (Postscript Printer) | USB |
| External input | 4 contact inputs |
| External output | 8 24v outputs |
| Dust/Water resistence rating | IP65 |
| Operational Temperature and humidity | -5 ~ 40 Celcius Humidity below 85% |
| Power Supply | Single Phase AC100-240V (+10% / -15%) 50/60 Hz 180 VA |
| External Dimensions | Length: 700mm / Width : 600mm / Height: 710-860 mm |
| Weight | Aprox. 35 kg |
| Construction Material | Stainless Steel |

Where can I purchase this equipment?

A&D Australiasia has a nation wide dealer network with outlets in all capital cities and in most regional locations. Call Toll Free 1800 241 434 for the location of your nearest dealer.

My product requires service/repair, how do I arrange this?

Contact the A&D Australiasia Service department on 08 8301 8120 or at [email protected] and they can advise on and coordinate your service requirement.