Metal Detector 350/170 aperture
This system is suitable for packages that do not exceed 6" in overall height.
Aperture Size: 350 mm (W) x 170 mm (H) | 13.7" x 6.6"
In facilities with metal machinery and risk of metal contamination, our modular in-line metal detectors can detect ferrous, non ferrous and stainless steel pieces, as well as providing data capture to facilitate your QA reporting.
Features
Our industrial grade in-line metal detection system can detect ferrous, non-ferrous, stainless steel contaminants as small as 0.2 millimeters while also minimizing false rejects. Plus, our modular approach, coupled with our stainless steel construction and wash down rating, allows users to quickly disassemble the machine for easy maintenance and sanitary cleaning.
The AD-4971 Series Metal Detectors are all IP65 rated (dust and water resistant, IP69K optional), which makes them ideal for the food and beverage industry as well as nutraceutical and pharmacuetical markets. Beyond sensitivity, this series offers stability, a user-friendly interface, high repeatability, and automated monitoring.
Protected from dust and water to IP65 standards. Hygienic design with the entire system washable.
Suitable for use in HACCP program.
Automatic sensitivity setting function.
Easy operation with 7-inch color touch panel.
Variable belt speed of 10-60m/min.
Standard Ethernet I/O allowing easy networking via LAN.
Inspection history function with the ability to record 100 inspection results in the internal memory.
Capacity can be increased by using USB memory.
Cleaning and maintenance is simple with a detachable conveyor belt.
Related Video
2IMsp6pxMZU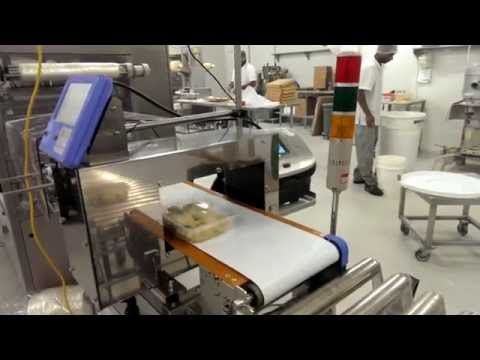 Food Grade Metal Detector In-line System
Ut2Qxa0uz5k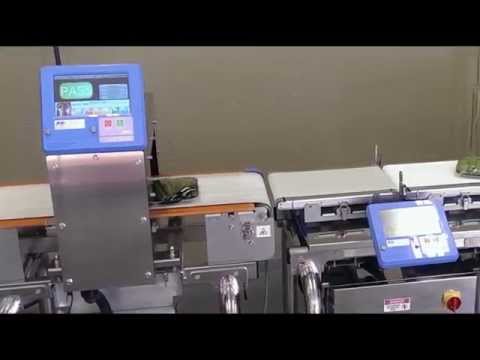 Inspection System Inspecting Fresh Produce
Additional Information
With a new consumer focus on organic and fresh foods and exotic ingredients, supermarkets are increasingly turning to small-to-medium sized Australian food manufacturers for their products. While these contracts are lucrative, they also increase the demands on the manufacturers' processes, necessitating faster production while still maintaining accurate portioning. Accurate metal detection inspection of products is critical: it ensures manufacturers are not supplying contaminated product and putting their customers' safety at risk, which can lead to fines, loss of contracts,and more.
Display examples

Applications
A&D Metal Detectors can be used in a range of applications, including food and beverage, pharmaceuticals, and consumer packaged goods that do not have metallic packaging.
Ready made meals
Prepared foods
Meat, fish, and poultry
Bakery products
Cereals
Dairy foods
Confectioneries and snacks
Fresh produce – fruits and vegetables
Cosmetics
Pharmaceuticals and nutraceuticals
Model
AD-4971-3517
Aperture size
Width: 350mm
Height: 170mm
Pass Height: 150mm
Conveyor belt width
250mm
Conveyor belt length
800mm
Transport medium
Urethane belt
Conveyor belt speed
10 – 60m / min
IP Rating
IP65
Display
7-inch touch panel colour display
2D graph display
✔
Menu with graphic display
✔
Audio guidance for operation
✔
Supports Modbus
✔
FTP server function
✔
History can be recorded in USB memory
✔
Accessibility to I/O box
✔
Maintenance
Direct drive motor, quick lock conveyor assembly, continuous belt
PLC interface (standard feature)
Modbus RTU/Modbus TCP, FTP server function (LAN),
External input
Non-voltage contact input 4 points
External output
Relay output 8 points
Conveyor load capacity
4kg

Where can I purchase this equipment?

A&D Australiasia has a nation wide dealer network with outlets in all capital cities and in most regional locations. Call Toll Free 1800 241 434 for the location of your nearest dealer.

My product requires service/repair, how do I arrange this?

Contact the A&D Australiasia Service department on 08 8301 8120 or at [email protected] and they can advise on and coordinate your service requirement.